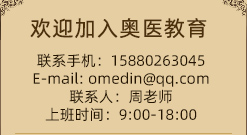 在线QQ:

001 飞行途中出现急诊护士乘客可以予以治疗吗?
日期:2015-08-27 09:15:27 来源:奥医教育
教科书也好,复习材料也好,给我们提供的都是执业必需的理论知识,在实际执业中碰到的很多具体问题,比如可不可用自己的电话办工作上的事情;病人到医院后还没有被正式接收,此时可不可以给他治疗或允许他使用相关检查设备……,他们都无暇给出指引,这些实际问题恰恰又是出国执业必然会碰到、必须要处理的问题,而且,处理不当,很可能引来麻烦,甚至触犯法律。
有鉴于此,本站从国外权威网站援引了一些处置实例,说明在当时当地执业环境下,国外护士是如何处理的。希望这些材料能对大家有所帮助。也欢迎大家提供个人亲历材料让大家分享。
出于内容真实性及本人时间考虑,援引材料皆采用原文。
如有特殊需要,可与本站联系。
----编者
飞机上出现紧急情况时机上的医生、护士乘客立即进行现场治疗或用药,这在我们的媒体中司空见惯,大家也觉得天经地义。但从职业角度看,这样做有时并不合法。那么,怎样做才能既合符合法律规定又符合执业伦理呢?这篇材料也许会给我们一些启示。

001 飞行途中出现急诊护士乘客可以予以治疗吗?
Can a Nurse Give Medications During In-Flight Medical Emergencies?
Carolyn Buppert, MSN, JD
Question
When the call comes over the loudspeaker, 'Is there a doctor or nurse on board the aircraft,' what, if anything, can the nurse do beyond administering first aid?

A nurse wrote in with a question about rendering care "in flight," on board an airplane:
Airplanes keep medications on board for emergency situations. When a medical emergency unfolds on the aircraft during flight, and the nurse offers assistance, is there a way for the nurse to get orders to be able to use those medications or other available supplies appropriately, or is it better to just stick to basic first aid? Assuming that the nurse acts solely within his or her scope of practice, are there any liability risks (eg, negligence) to assisting in this situation?
I understand that many airlines have access, by phone, to medical advice in emergencies. And flight attendants undergo first-aid training. So airline staff may no longer ask for nor need the assistance of passengers who are healthcare providers. And although flight attendants may appreciate the assistance of a nurse or physician, they can decline that assistance at their discretion.

If airline staff request help, and if a nurse offers to perform cardiopulmonary resuscitation or other services, the flight attendant may ask for proof of competency. If a flight attendant asks for help in assessing and treating a passenger, the nurse could ask whether ground-based physician services are available, and what equipment or treatments are available. Federal rules require airlines to carry a first-aid kit and oxygen on board, but the treatment options may vary from airline to airline.

Flight attendants are cautioned in training materials that they may offer a passenger medications, but the customer must be able to self-administer. Likewise, a nurse should not become involved with administering medications provided by the airline without a physician order, nor should a nurse administer a patient's own medication unless there is communication with a qualified medical service engaged by the airline.

My rationale for that statement is that nurses, emergency medical technicians, paramedics, physician assistants, and physicians are covered by Good Samaritan laws that limit the healthcare provider's liability when providing emergency services in the air. However, nurses or other providers must provide only those services within their scope of practice under their home state law. And the provider must provide care that is within the standard of care, given the specific circumstances.

If a nurse is on board and flight attendants ask for medical assistance, it is appropriate for the nurse to offer to help. The flight attendants will decide how much help is needed.
Here is a helpful resource on
handling in-flight medical emergencies
原文网址:
http://www.medscape.com/viewarticle/849674
上一篇:
美国护士薪酬的性别差异
下一篇:
002 可以在工作中使用自己的手机吗?