2.3 Giving A Partial Bedbath and Backrub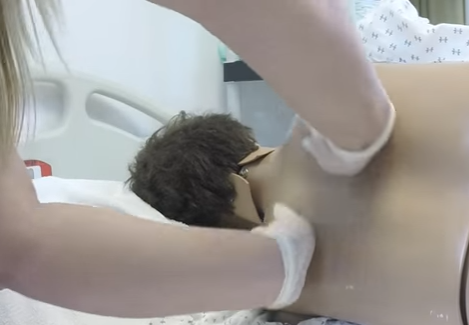 Assisting your patient with performing daily bathing rituals will help the patient to remain comfortable as they recover. Bathing is an important part of helping your patient to stay as healthy as possible. Due to the difficulty of moving a patient for a bath and the significant demands this process places on staff, a patient may receive periodic bed-baths. Before you assist a patient with bathing, be sure to properly wash your own hands. Greet your patient, and let them know that you will be giving them a bath. Then, follow these steps to complete the bath:
1. Obtain a basin for water, and fill it with warm water. The water should be between 105 and 115 degrees. Test the water with your inner wrist or elbow- if it feels uncomfortable to you, let the water cool down.
2. Remove as much medical equipment as reasonable. Be sure the patient has privacy by blocking the view into the room before you undress the patient.
3. Allow the patient to complete as much of the process as he or she is able to. Self-care skills help patients to feel that they are in control of their health.
4. Begin by gently washing the patient's face with a sponge or washcloth. Move downward to the arms, chest, stomach, legs, back and perineal area. Use a clean cloth for each part of the body to avoid transferring contaminants.
5. If the patient's linens become wet or soiled, change them as soon as possible.
6. Apply lotion to any exposed areas if the patient so desires.
7. Assist the patient into a comfortable sitting or lying position, and help the patient dress themselves.
8. Wash your hands again after properly disposing of supplies for the bath.
By assisting the patient with bathing, you can help the patient remain as comfortable as possible. Regular bathing may also reduce the likelihood of spreading germs, and will allow you an opportunity to observe the patient's general physical condition and report issues such as bed sores.
本文视频仅供注册会员查看,请
登录!



上一篇:
2.2 Oral Care
下一篇:
2.4 Perineal Care
收藏